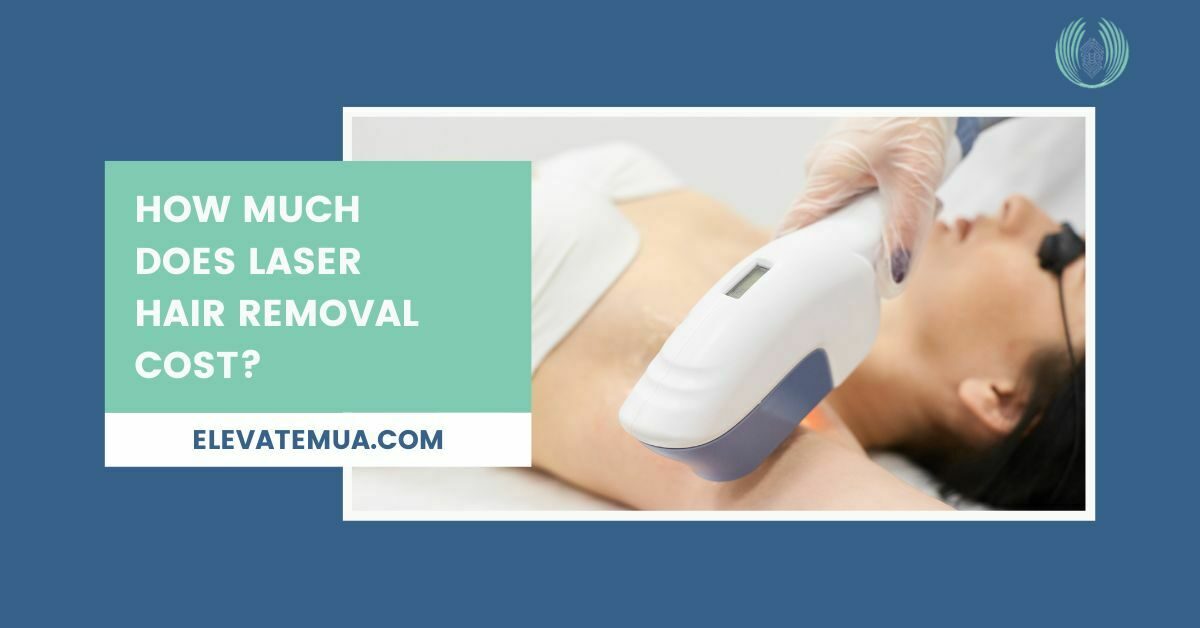 How Much Does Laser Hair Removal Cost?
When was the last time you shaved your legs? Or your underarms? Or your bikini area? You probably answered somewhere between this morning, or it's too much work, so I don't remember. And the truth is that shaving sucks. And if you get waxed every month or so, you probably know that the process isn't much fun. For these reasons, many people, men and women alike, consider laser hair removal as an alternative to shaving and waxing. Not only does laser hair removal remove unwanted hair, but it can also lessen your risks of those unsightly and painful ingrown hairs. Please read what you need to know about laser hair removal and how much it costs.
What is laser hair removal?
So let's start with the basics to ensure we're all on the same page as to what laser hair removal is in the first place. Laser hair removal is a professionally- treated medical procedure that uses laser light to remove unwanted hair. During the treatment, a laser absorbs the pigment in the unwanted hair. The energy from this light is converted to heat, damaging the sac within which your hair grows. The intentional damage created throughout this process inhibits or delays, future hair growth.
And though laser hair removal is highly effective in limiting future hair growth, it is not a one-and-done or altogether permanent solution. Most patients require several treatments over 12 to 18 months to see a satisfactory reduction in hair growth.
So then, this begs the question, how much does laser hair removal cost?
Average Laser Hair Removal Cost Per Treatment
It's only natural to want to know what to expect from laser hair removal prices. And the truth is that prices can vary based on the type of treatment, treatment length, and your specific skin pigmentation. But typically, you can expect the following for the average cost of laser hair removal.

| | | |
| --- | --- | --- |
| Treatment | Ideal Sessions | Average Cost. |
| Full face | Six to ten sessions | $380 - $950 |
| Underarms | Four to eight sessions | $300 - $650 |
| Chest or back | Six to ten sessions | $680 - $1680 |
| Regular bikini | Six to ten sessions | $280 - $450 |
| Brazilian bikini | Six to ten sessions | $300 - $550 |
| Half legs (below the knee) | Six to ten sessions | $450 - $950 |
| Full body | Six to ten sessions | $2,800 - $4,000 |

Typically, hair removal can be completed in four to eight sessions with six to eight weeks between each session. However, because hair grows in stages, you may need more or fewer treatments based on your hair's growth rate. Your treatment specialist at ElevateMuà will provide you with a personalized laser hair removal treatment plan, so you will know what to expect throughout the treatment process. And we'll provide recommendations regarding touch-ups you might need if your unwanted hair returns.
Am I a candidate for laser hair removal?
Laser hair is a highly effective treatment solution for patients that want to say goodbye to razor and wax treatments. So, wondering if you are a candidate for laser hair removal? Whether you visited the ElevateMuà site today for laser hair removal chin cost or you are more interested in laser hair removal bikini area cost, know that we offer all that and everything in between.
The ideal candidates for laser hair removal are those with the following characteristics:

A desire to remove unwanted hair

Realistic expectations regarding laser hair removal and what it can accomplish (it is not a 100% permanent solution)

Darker hair pigment (hair that is too close to your natural skin color can be hard for the laser to target)

No waxing, electrolysis, or plucking for up to six weeks before your treatment

You have not had sun exposure for up to six weeks before each treatment

You are ready for permanent or semi-permanent hair loss in the targeted area
The benefits of laser hair removal
Decided to move forward with laser hair removal is a big decision. But laser hair removal is so much more convenient than waxing. Not only that, but it is safer than chemicals that can harm or burn your skin. And laser hair removal saves a considerable amount of time versus shaving. After all, who wants to shave their legs every few days or run to the shower or bath to shave before a night on the town? Check out all the benefits that laser hair removal has to offer:
It's a long-term solution
Low-maintenance
Minimal side effects (redness at the follicle site usually dissipates in less than 48 hours)
No more painful or unsightly ingrown hairs
Less painful than waxing (or nicking yourself with your razor)
It's safe, even for those with dark skin tones
Treatment is precise, only targeting the areas of unwanted hair
Promotes smoother, tighter skin, especially when combined with a Viora skin tightening treatment
It costs less than waxing over time!
How to care for your skin after laser hair removal
If you've decided to move forward with laser hair removal, congratulations! You've made an excellent choice in self-care and creating smoother skin. As you look forward to your next treatment, look at these tips to help you best care for your skin afterward.

Apply a cold compress to any bumps that are uncomfortable or painful - while this is rare, know that the bumps will go away in 24 to 48 hours.

Gently wash the area mild soap, and pat to dry.

Do not apply makeup, lotion, moisturizer, or deodorant for the first 24 hours after each treatment.

Don't worry if you see stubble a few days after your treatment - this is normal and dead hairs will typically shed for five to 30 days following treatment.

Starting five days after your last treatment, gently exfoliate with a lufa or exfoliating cloth.

Avoid the sun (it is best to avoid sun exposure altogether during the course of your laser hair removal treatments).

Do not pick, scratch, wax, thread, or tweeze the area - remember that new stubble will shed over the next several days.

Remember that hair growth varies - most patients will experience unwanted hairlessness after about six to nine sessions hairless happiness after six to nine sessions
Book your laser hair removal appointment in Schaumburg, IL today
Are you ready for a more permanent hair removal solution? Or are you interested in skin tightening? What about both? If so, then laser hair removal and Viora are the right solutions for smoother, tighter skin. Book an appointment today at ElevateMuà in Schaumburg, IL, so that you can relax and focus on your inner you while we bring out the stunning in your outer you.
FAQ: Answers to your questions about laser hair removal
Is the cost of laser hair removal worth it?
Determining if the cost of laser hair removal is worth it is entirely up to the individual. However, let's consider the example of waxing vs. laser hair removal treatment. A single wax treatment for the lower legs can cost about $30 - $55 per leg. Comparing this to $450 to $950 for lower leg laser hair removal might seem like waxing is cheaper. But, when you factor in that most patients get their lower leg waxed every six to eight weeks, at least $110 for both legs, that's over $950 in waxing for one year alone. So over the long term, laser hair removal is far less costly. And for many patients, that means that, laser hair removal is worth the cost.
Can I use insurance for laser hair removal?
Insurance companies will generally only cover laser hair removal if it is medically necessary. These conditions typically include folliculitis, Cushing's syndrome, Polycystic Ovarian Syndrome, Congenital Adrenal Hyperplasia, and various cancers. The best way to know if your insurance company has coverage for laser hair removal is to contact them directly.
Are there any discounts or promotions for laser hair removal?
If you struggle to find the funds to pay for your laser hair removal, consider CareCredit. CareCredit provides various financing programs, many interest-free, for health and beauty treatments such as laser hair removal.
Is the cost of laser hair removal different for different body parts?
Yes, laser hair removal costs are different for different body parts. For example, laser hair removal bikini area cost typically ranges from $280 to $450, as this is a relatively small body part. Laser hair removal legs cost will be higher, averaging $450 to $950 throughout the treatments. Finally, laser hair removal chin cost will be much less, at about $150 to $300, depending on your hair growth.
The best way to get the average laser hair removal cost is to speak with a representative at ElevateMuà.
How many sessions are typically needed for laser hair removal?
The number of sessions for your laser hair removal treatment will vary depending on your hair growth and the area you are targeting. To remove unwanted hair, most patients require four to ten sessions. The armpits often take less time than other areas of the body. After treatments, most patients won't see a return of unwanted hair for several years. At this time, many patients have a clean-up or touch-up laser hair removal session conducted.