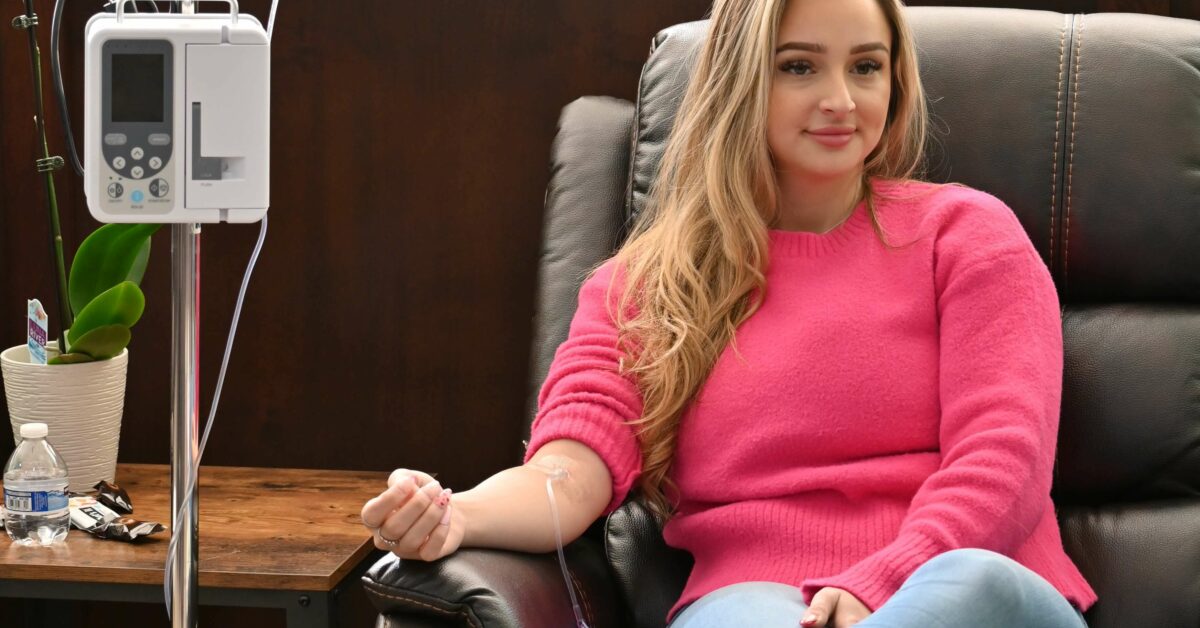 IV Therapy in Schaumburg, IL at Elevate Mua
Expert IV Therapy Specialist for Optimal Wellness

Even some healthy activities, such as exercise, taking our medications, eating protein, and consuming fiber, can deplete valuable vitamins and minerals from our bodies. Further, these very same activities can cause dehydration. Though much of this can be made up through vitamin supplements and drinking water daily, sometimes it's not enough. Expert IV therapy from Elevate Mua can help restore hydration, minerals, nutrients, vitamins, and electrolytes to the body. And the best thing is that you'll feel the results almost immediately.

What you should know about IV therapy
IV therapy is a popular wellness treatment that delivers valuable nutrients to the body. Though most people take the same nutrients orally (and should continue to do so), this process could be more efficient. The digestive system breaks down the nutrients first, and an estimated 50% is lost throughout that process. When those nutrients are delivered intravenously, they go directly into the bloodstream, creating a fast, efficient, and highly effective benefit.
Patients who receive IV therapy in the Chicago area can anticipate these benefits:
IV therapy promotes weight loss
Most of us understand the value of healthy nutrition and moderate physical activity several times per week. But a new weight loss program or product appears on social media every week. These programs guarantee fast results if you do x, y, and z. And you probably need to take one of their supplements or sign up for their subscription-based exercise program. But these weight-loss formulas are an oversimplification of what needs to happen. Not only that but trying these programs can often starve the body and create unhealthy behaviors that are hard to maintain.
When it comes to weight loss it is a calculation of calories in and calories out. But the calories out thing is where things get a bit more complicated. The more fit you are, the more efficient your body operates and the more calories you burn. This is why lean protein is so essential in your diet. Combine lean protein consumption with lightweight building a few times a week; you'll build lean muscle that burns more calories. This said the body needs to stay hydrated for those muscles to work correctly and for those excess calories to be flushed away.
When you combine intravenous infusion therapy with a healthy diet and regular moderate exercise, all those things you do to lose weight will become more effective.
Hydration therapy from an IV therapist can help treat nutrient deficiencies
IV therapy enables your IV Therapy Specialist to provide a customized solution that allows vitamins and minerals to bypass your digestive system. The result is that your body can absorb the liquid supplements completely, thus improving your overall health.
And though we always recommend that patients with certain chronic illnesses consult with their physician before receiving IV therapy, those who do can experience effective treatment for conditions such as:
Celiac disease
Crohn's disease
Colon cancer
Cystic fibrosis
Short bowel syndrome
Rheumatoid arthritis
Migraines
Immune deficiencies
You'll be given a liquid mix of vital vitamins and minerals during your treatment. The solution will work into your body through a small tube inserted into your vein. The IV drip will pass the supplements directly into your bloodstream, allowing the vitamins to absorb more rapidly. Bypassing your digestive system by going right into the bloodstream results in a greater uptake into the cells that maintain your health and fight viruses and various illnesses.
IV treatment promotes body wellness by cleansing the body of unwanted toxins and free radicals
If you've been searching online for IV therapy near you, you have come to the right place. Our IV treatments contain antioxidants such as Vitamin C, Glutathione, and Alpha-lipoic acid. Not only is IV treatment beneficial to promote weight loss and treat various nutrition deficiencies, but it can also cleanse your body simultaneously.
Unwanted toxins and free radicals are flushed from your system via your organs, including the liver, skin (through sweat), kidneys, intestines, lymph nodes, and blood vessels. In addition to breathing out some toxins and free radicals, we naturally remove toxic products through our urine, feces, and sweat.
IV therapy in Schaumburg takes 30 to 60 minutes
If you are worried about your wellness, IV therapy is an excellent way to boost your mood and your body's efficiency. This highly-effective treatment helps promote weight loss, replenish vital nutrients, and flush away toxins and free radicals. But aside from that, your IV therapy specialist can provide the following benefits:
IV hydration therapy to balance electrolytes and fluids
Immunity booster to prevent illness and aid in illness recovery
Increase energy to help you recover from your workouts faster
Assist with hangover recovery so you can get on with your day
Promote a more youthful appearance by strengthening your skin, hair, and nails
Relieve migraines
Promote anti-aging and DNA repair
Except for the special IV Drips (NAD+) IV therapy only takes 30 to 60 minutes per treatment. Patients can expect to feel some of the results of their treatment immediately, with the full effect experienced about three- or four days post-treatment. We recommend that patients return for subsequent treatments every two to three weeks.
Experience IV therapy near you and renew total body wellness
If you're still on the fence about all the benefits of IV therapy and what IV hydration in Chicago can do, check out our Google Reviews from other customers like you. And if that isn't enough, call our wellness center to learn more. We'll answer any questions about IV therapy or any other treatment you are considering. After we run your IV therapy diagnostic, we'll provide a recommendation on the best IV treatment for you.
We're confident you'll be just as satisfied as the customers who have left us reviews. Request an appointment today.

IV therapy FAQs
Which IVs do you offer?
Basic Hydration
Hydration C
Hydration Z
Hangover IV Cocktail
Basic Migraine IV
Migraine IV Mix Plus
Energy Booster
Immune Booster
Beauty IV Cocktail
NAD+ IV Therapy
Hangover Plus IV Drip
How long does an IV therapy session take?
As your IV therapy session is customized to you, the time it will take will vary. We'll start with an IV therapy diagnostic to better understand your needs and we'll provide a recommended treatment program to you. Some people can receive IV fluids faster than others. For most patients, the IV therapy session takes 30 to 60 minutes.
What conditions can be treated with IV therapy?
IV therapy can aid in the treatment of a variety of conditions including, but not limited to, Crohn's disease, ulcerative colitis, rheumatoid arthritis, lupus, multiple sclerosis, migraines, and immune deficiencies. However, patients must understand that IV therapy will not cure these ailments. Rather, IV therapy best complements the treatment you are receiving from your primary care physician (PCP).
How is IV therapy different from taking supplements orally?
IV therapy in Schaumburg is administered intravenously through a vein, allowing the solution to bypass your digestive system. This means that the nutrients will not break down as quickly, and you'll be able to enjoy the full benefits versus the amount that did not break down.

If you are interested in IV therapy but are concerned about how to pay for the services, talk to the team at Elevate Mua.