Silky Smooth Skin Beckons
Are you tired of shaving, plucking, or waxing off unwanted hair? Laser hair removal in Chicago treatment at ElevateMuà could be your answer.
Laser hair removal Chicago is a procedure that uses a beam of light (laser) to remove unwanted hair. Common treatment locations include armpits, legs, chin, upper lip, and bikini line.
Let razor burn and bumps become a thing of the past and remove unwanted hair for good. No more shaving, waxing, plucking, threading and chemical hair removal that can damage your skin.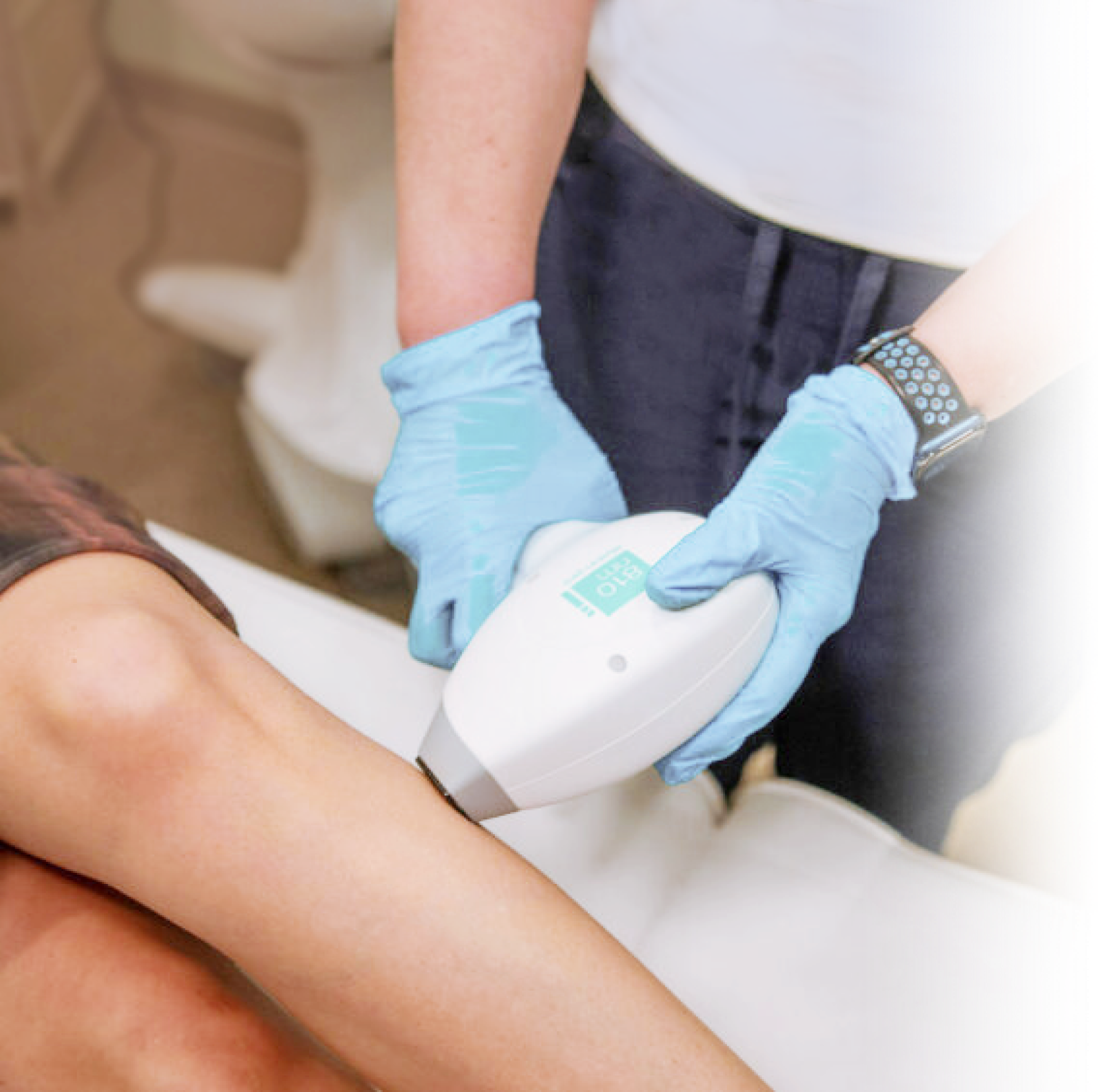 How It Works?
During laser hair removal Chicago, a laser emits light which is absorbed by the pigment (melanin) in the hair. The energy of the light is then converted into heat, which destroys the hair follicles that produce hairs. This damage delays or inhibits future hair growth.
Since air color and skin type influence the success of laser hair removal Chicago, it's best to have a contrast between the skin and hair color (i.e., light skin and dark hair) produce the best results. The basic idea is that the pigment of the hair, not the pigment of the skin, should absorb the light. Therefore, the laser should only damage the hair follicle and not damage the skin.
Laser Hair Removal at a Glance
WHAT IS IT?
A cosmetic procedure that uses concentrated light to target and inhibit hair growth at the follicle level.
BENEFITS
Long-lasting hair reduction, smoother skin, and reduced ingrown hairs.
TIME
30 - 60 min
2 - 6 repeated treatments for best results
INVESTMENT
$115 - $755
2 - 6 repeated treatments for best results
Laser Hair Removal - What to expect?
Laser hair removal Chicago usually requires two to six treatments. The time between treatments will vary depending on the location. The treatment can be repeated in four to eight weeks on areas where hair proliferates, like the upper lip. On areas of slow hair growth, like the back, the treatment might be repeated every 12 to 16 weeks.
During your treatment, you'll be instructed to wear goggles to protect your eyes from the laser beam. A clinician might shave the site again if necessary and apply a topical anesthetic to your skin to reduce discomfort during your treatment.
What You Need to Know About the Process
1

CONSULTATION BEFORE the Laser Hair Removal Procedure

At the consultation, our laser hair removal Chicago dermatologist will offer specific instructions to prepare for laser hair removal. These might include:

Staying out of the sun
Lightening your skin
Avoid other hair removal methods
Avoiding blood-thinning medications
Shaving the treatment area the day before the treatment

2

During the Laser Hair Removal Procedure

The doctor will use a hand-held laser instrument on your skin. To protect your skin and lessen the risk of side effects, a cool gel or cooling device on the instrument's tip might be used.

When the doctor activates the laser, the light will go through your skin to the hair follicles. The heat from the laser inhibits hair growth by damaging the hair follicles. You might feel slight discomfort, like a warm pinprick, during your hair removal Chicago treatment, and you'll likely feel a cold sensation from the gel or cooling device.

Laser facial hair removal Chicago may take only a few minutes. However, full body laser hair removal Chicago might take an hour or more.

3

After the Laser Hair Removal Procedure

After laser hair removal, you might notice swelling and redness for the first few hours.

To reduce any discomfort, you can apply ice to the treated area. If you have a skin reaction after laser hair removal, the doctor might apply a steroid cream.

IMPORTANT!
Between scheduled treatments after laser hair removal, you should avoid sunlight for six weeks or as directed by your doctor. It's also recommended that you use a broad-spectrum SPF30 sunscreen daily.
Laser Hair Removal Treatment Results
Hairs do not fall out immediately, but you will shed them over days to weeks. This may look like continued hair growth. Repeated treatments are usually necessary because hair growth occurs in cycles, and laser treatment works best with hair follicles in the new-growth stage.
Results can vary significantly from patient to patient and are difficult to predict. Most people experience results that last for several months and might last for years. However, laser hair removal doesn't guarantee permanent hair removal. When hair regrows, it's usually lighter in color and finer.
Maintenance laser treatments may be required for long-term hair reduction.
Laser hair removal in Chicago suburbs and laser hair removal in Chicago, Illinois, has become very popular. To learn more about laser hair removal and the best laser hair removal in Chicago, contact ElevateMuà today!
Experience laser hair removal near you and remove unwanted hair for good
If you're still on the fence about all the benefits of laser hair removal and what laser hair removal in Chicago can do, check out our Google Reviews from other customers like you. And if that isn't enough, call our wellness center to learn more. We'll answer any questions about laser hair removal therapy or any other treatment you are considering.
We're confident you'll be just as satisfied as the customers who have left us reviews. Request an appointment today.
This place was so amazing! I loved my facial and my skin is glowing after just one session!! If I could give this place more than 5 stars I would.
Impeccable Service, Unmatched Ambiance
If I could give more than 5 stars I would. There was impeccable service from the minute I walked through the door. The ambiance was unmatched and I loved how tailored the treatments were to me and my needs!
Scheduled for a laser hair removal consult.. it was quick and easy. I even got my first treatment done the same day! I cannot recommend it enough. It has been over a week since I had my first treatment and I'm just now starting to see the hair grow back
I just tried their new Aqua B Ultimate service and I absolutely LOVED it! Experience overall was just so relaxing and my skin feels GREAT! Sev really make sure you feel comfortable and relaxed. She is also super informative on any questions you may have about skin!
I had the best experience! The staff was very nice and lovely to talk to! My face feels refreshed and rejuvenated, and I felt like my treatment was very personalized. I definitely recommend coming here!
I had the pleasure of visiting ElevateMuà and I was thoroughly impressed with the experience. I highly recommend getting your facial skin consultation to thoroughly understand what areas need improvement and taking advantage of the plethora state of the art technology they have to offer.
Laser Hair Removal FAQs
Depending on the treated area, laser hair removal in Chicago price can run anywhere from $50 to $5000, depending on the size of the area being treated. Read more in our blog.
Unfortunately, because hair grows in cycles, laser hair removal is not permanent, and repeated laser treatments may be required for long-term hair removal.
If you're tired of the amount of time and money you spend on trying to remove unwanted body hair at home, getting a series of professional laser hair removal treatments are most definitely worth it.
Results can last months or even years, depending on the individual.
Find Out More In Our Blog
Working Hours
Come see us today and let us Elevate you!
Monday
12:00 P.M. - 6:00 P.M

Tue/ Wed / Thu / Fri
10:00 AM - 6:00 PM

Saturday
9:00 AM - 3:00 PM

Sunday
Closed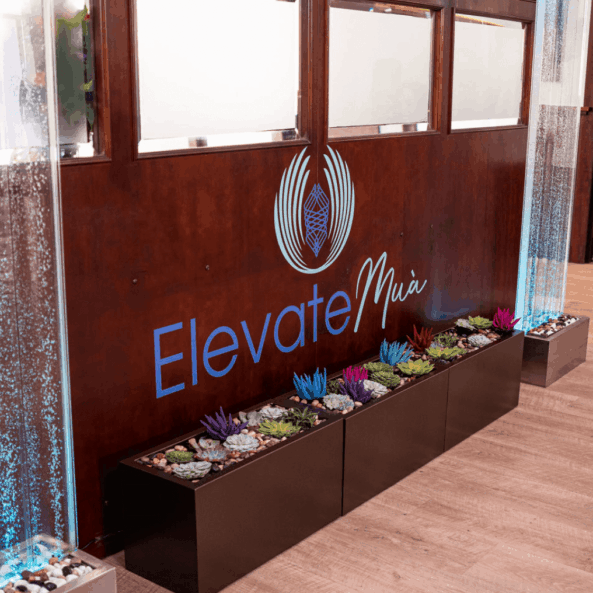 We serve customers from
following areas and more
Arlington Heights

Schaumburg

Mt Prospect

Norridge

Barrington

Elk Grove Village

South Barrington

Palatine

Chicago

Itasca

Park Ridge

Roselle