Address Vascular Concerns at ElevateMua
Vascular lesions, also known as birthmarks, are common abnormalities affecting the skin and underlying tissues. They can be categorized into three main types: Hemangiomas, Vascular Malformations, and Pyogenic Granulomas. While some vascular lesions may be inconspicuous, others can be larger and more visible, causing concerns about appearance.
Vascular laser treatment effectively reduce the visibility of various skin discolorations, including red, blue-purple, or brown marks caused by capillary malformations, broken blood vessels, rosacea, spider veins, sunspots, and freckles
How Vascular Laser Treatment Works
Vascular laser treatment involves the use of a specialized laser that penetrates the outer layers of the skin to reach the targeted blood vessels beneath. By emitting rapid bursts of light, the blood vessels selectively absorb the vascular laser's energy, leading to the solidification and destruction of the blood inside the vessels due to the intense heat.
This process effectively shrinks and removes vascular lesions, restoring the skin's natural appearance. Vascular laser therapy is a safe and precise method to address vascular lesions without causing damage to the surrounding skin, providing effective results for those seeking to improve their skin's aesthetics.
Cellulite Reduction Treatment at a Glance
WHAT IS IT?
Vascular laser therapy is a safe and precise,non-invasive procedure to address vascular lesions without causing damage to the surrounding skin
BENEFITS
This process effectively shrinks and removes vascular lesions, restoring the skin's natural appearance
TIME
30 - 60 min
2 - 6 repeated treatments for best results
INVESTMENT
$115 - $755
2 - 6 repeated treatments for best results
Benefits of Vascular Laser Therapy
For individuals dealing with leg veins or telangiectasia (spider veins), telangiectasia laser treatment offers an effective solution to improve skin appearance and boost self-confidence. The benefits of this advanced treatment include:
Non-Invasive

Vascular laser therapy is a non-invasive procedure, minimizing the need for incisions or injections.

Precision

The laser targets only the affected blood vessels, leaving surrounding tissues unharmed.

Minimal Downtime

With little to no downtime, patients can resume daily activities shortly after treatment.

Safe and Effective

Vascular laser therapy is considered safe and has proven to be an effective treatment for leg veins and telangiectasia.

Improved Skin Appearance

By targeting and removing the unsightly blood vessels, the skin's appearance is enhanced, promoting a smoother and more even complexion.

Quick Results

Many patients experience noticeable improvements after just one treatment, with optimal results achieved over subsequent sessions.
What To Expect On The Day Of Treatment
1

BEFORE the vascular lesions treatment Procedure

To ensure the best results and minimize potential side effects, it is essential to follow these guidelines:

Sun Avoidance:

Refrain from sun exposure and tanning beds for at least 4 weeks before your treatment.

Medication Review:

Inform the doctor if you are on blood thinners or if you take aspirin or ibuprofen on a regular basis.

Alcohol Abstinence:

Avoid alcohol consumption for two days before treatment.

Accutane History:

Disclose any past use of Accutane (oral acne medication) within the past year.

By adhering to these guidelines, you can optimize the effectiveness of your vascular laser therapy and achieve the best possible outcomes.

2

DURING THE vascular lesions treatment Procedure

When you arrive for your vascular laser therapy at our Schaumburg laser vascular center, our expert team will use precise lasers to target and eliminate vascular skin lesions, such as redness and unsightly veins, as well as benign pigmented lesions like age spots and sunspots on the face and body.

3

After THE vascular lesions treatment Procedure

For the majority of patients, there is little to no downtime after vascular laser therapy, and they can immediately resume their daily activities. However, it is essential to follow any specific post-treatment instructions the team at Elevate Mua provides to ensure optimal results and minimize any potential side effects.
Experience Vascular Lesions Treatment Near You
If you're still on the fence about all the benefits of vascular lesions treatment and what vascular lesions treatment in Schaumburg can do, check out our Google Reviews from other customers like you. And if that isn't enough, call our wellness center to learn more. We'll answer any questions about laser hyperpigmentation treatment or any other treatment you are considering.
We're confident you'll be just as satisfied as the customers who have left us reviews. Request an appointment today.
I just tried their new Aqua B Ultimate service and I absolutely LOVED it! Experience overall was just so relaxing and my skin feels GREAT! Sev really make sure you feel comfortable and relaxed. She is also super informative on any questions you may have about skin!
This place was so amazing! I loved my facial and my skin is glowing after just one session!! If I could give this place more than 5 stars I would.
Impeccable Service, Unmatched Ambiance
If I could give more than 5 stars I would. There was impeccable service from the minute I walked through the door. The ambiance was unmatched and I loved how tailored the treatments were to me and my needs!
Scheduled for a laser hair removal consult.. it was quick and easy. I even got my first treatment done the same day! I cannot recommend it enough. It has been over a week since I had my first treatment and I'm just now starting to see the hair grow back
I had the best experience! The staff was very nice and lovely to talk to! My face feels refreshed and rejuvenated, and I felt like my treatment was very personalized. I definitely recommend coming here!
I had the pleasure of visiting ElevateMuà and I was thoroughly impressed with the experience. I highly recommend getting your facial skin consultation to thoroughly understand what areas need improvement and taking advantage of the plethora state of the art technology they have to offer.
Vascular Lesions Treatment FAQs
As with any wellness procedure, it's common to have questions about vascular laser treatment. Our team at the laser vascular center at Elevate Mua in Schaumburg is here to address any concerns, providing you with the information and support you need to make informed decisions about your vascular skin lesions treatment.
Find Out More In Our Blog
Working Hours
Come see us today and let us Elevate you!
Monday
12:00 P.M. - 6:00 P.M

Tue/ Wed / Thu / Fri
10:00 AM - 6:00 PM

Saturday
9:00 AM - 3:00 PM

Sunday
Closed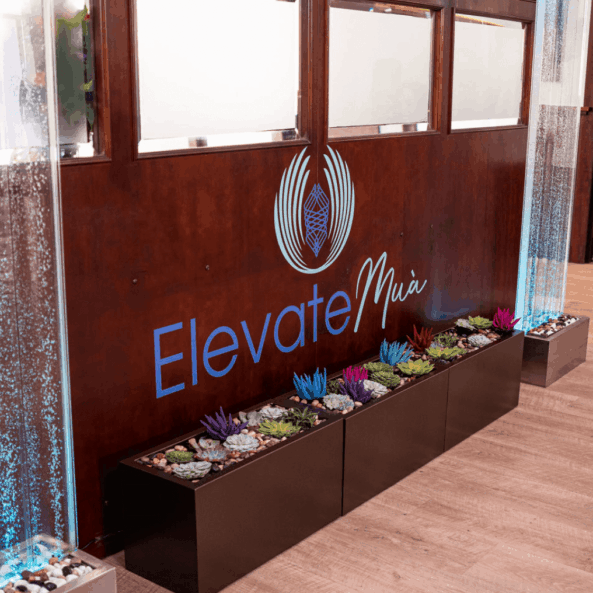 We serve customers from
following areas and more
Arlington Heights

Schaumburg

Mt Prospect

Norridge

Barrington

Elk Grove Village

South Barrington

Palatine

Chicago

Itasca

Park Ridge

Roselle