Non-invasive Lip Plumping
Full, plump lips are a coveted beauty trend, admired by both women and men alike. Research even suggests that larger lips are perceived as more attractive, signaling strong mating and maternal potential. With media icons like Kim Kardashian, Kylie Jenner, and Rihanna flaunting their supple puckers, the desire for fuller lips has become even more popular.
For those with thin lips seeking a non-invasive solution, needleless lip plumping offers an appealing option. This innovative technique allows you to achieve luscious lips without traditional injections, providing a safe and effective way to enhance your natural beauty.

Discover the wonders of needleless lip plumping and unlock a confident, more youthful appearance with ElevateMuà.
Needleless Lip Plumping at a Glance
WHAT IS IT?
Hyaluron pen lip filler technique allows you to achieve luscious lips without traditional injections, providing a safe and effective way.
BENEFITS
Enhanced lip volume and shape with quick and virtually painless method.
TIME
INVESTMENT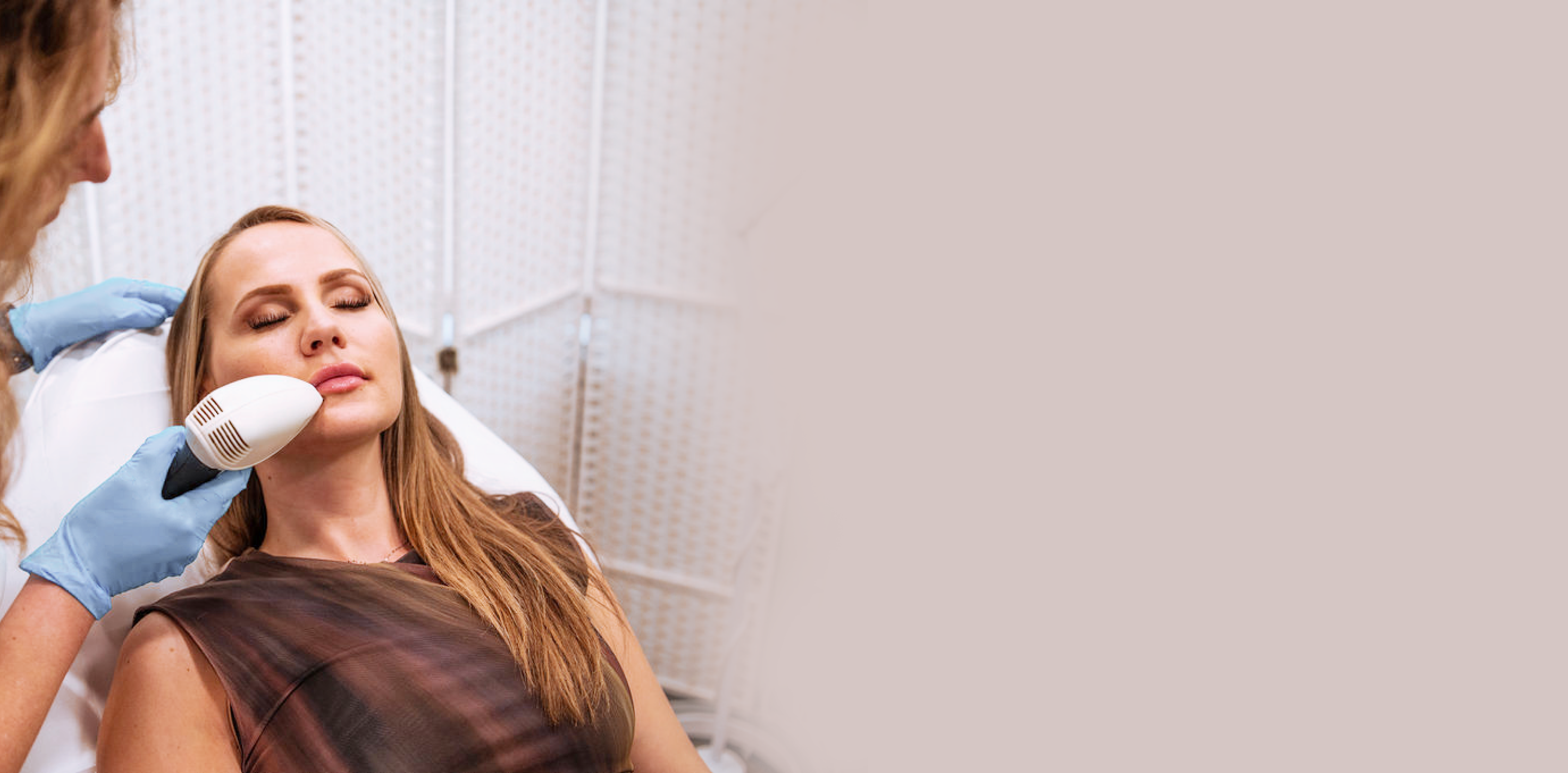 Benefits of Needleless Lip Plumping in Schaumburg, IL
Experience the allure of fuller lips with the exceptional benefits of needleless lip plumping at ElevateMuà in Schaumburg, IL. Our cutting-edge hyaluron pen lip filler technique offers a range of advantages, ensuring you achieve the perfect pout without the use of traditional needles.
Non-Invasive Procedure

The needle-free approach minimizes discomfort and reduces the risk of bruising or swelling typically associated with needle injections.

Quick and Convenient

The procedure is swift, often taking just minutes, allowing you to resume your daily activities with little downtime.

No Anesthesia Required

Since the process is virtually painless, there's no need for anesthesia, providing a stress-free and comfortable experience.
What to Expect on the Day of Needleless Lip Plumping Treatment in Schaumburg, IL
1

Before the Needleless Lip Plumping Procedure

Preparing for needleless lip plumping treatment at ElevateMuà in Schaumburg, IL is hassle-free, as no specific prep work is required.

2

DURING the Needleless Lip Plumping Procedure

On the day of your needleless lip plumping treatment at ElevateMuà in Schaumburg, IL, you can anticipate a comfortable and efficient procedure. Our experienced practitioners will guide you through each step, ensuring your comfort throughout the process.

The treatment begins with a thorough consultation to understand your lip enhancement goals. As the process is minimally invasive, there's no need for anesthesia, and discomfort is kept to a minimum.

The entire session typically takes 10-20 minutes, allowing you to leave our clinic with beautifully enhanced lips.

3

AFTER the Needleless Lip Plumping Procedure

Unlike traditional fillers, there is no downtime, allowing clients to resume regular activities, including work, immediately after the procedure.
Experience Needleless Lip Plumping Near You
If you're still on the fence about all the benefits of needleless lip plumping and what needleless lip plumping in Schaumburg, IL can do, check out our Google Reviews from other customers like you. And if that isn't enough, call our wellness center to learn more. We'll answer any questions about needleless lip plumping or any other treatment you are considering.
We're confident you'll be just as satisfied as the customers who have left us reviews. Request an appointment today.
I just tried their new Aqua B Ultimate service and I absolutely LOVED it! Experience overall was just so relaxing and my skin feels GREAT! Sev really make sure you feel comfortable and relaxed. She is also super informative on any questions you may have about skin!
This place was so amazing! I loved my facial and my skin is glowing after just one session!! If I could give this place more than 5 stars I would.
I had the best experience! The staff was very nice and lovely to talk to! My face feels refreshed and rejuvenated, and I felt like my treatment was very personalized. I definitely recommend coming here!
Scheduled for a laser hair removal consult.. it was quick and easy. I even got my first treatment done the same day! I cannot recommend it enough. It has been over a week since I had my first treatment and I'm just now starting to see the hair grow back
Impeccable Service, Unmatched Ambiance
If I could give more than 5 stars I would. There was impeccable service from the minute I walked through the door. The ambiance was unmatched and I loved how tailored the treatments were to me and my needs!
I had the pleasure of visiting ElevateMuà and I was thoroughly impressed with the experience. I highly recommend getting your facial skin consultation to thoroughly understand what areas need improvement and taking advantage of the plethora state of the art technology they have to offer.
Frequently Asked Questions About Needleless Lip Fillers in Schaumburg, IL
At ElevateMuà in Schaumburg, IL, we understand that you may have questions about this innovative procedure. To address any doubts or concerns, we've compiled a list of frequently asked questions to help you better understand the process and its remarkable benefits.
Yes, needleless lip filler is an effective and non-invasive method to enhance lip volume and shape.
The cost of needleless lip filler treatment varies depending on the location and provider. To learn more contact us.

Needleless lip filler results typically last between 3 to 8 months. The filler's longevity depends on individual metabolism, hydration levels, and aftercare. Maintaining proper hydration in the two weeks following the treatment can prolong the results.

The innovative "needleless lip filler" technique makes permanently plumping lips without injections possible. This non-invasive method offers natural-looking results. For a temporary plumping effect, try gentle lip exfoliation, lip liner, and keeping lips moisturized. When applied topically, essential oils like peppermint, chamomile, lavender, and lemon can also provide a subtle plumping effect.

Find Out More In Our Blog
Working Hours
Come see us today and let us Elevate you!
Monday
12:00 P.M. - 6:00 P.M

Tue/ Wed / Thu / Fri
10:00 AM - 6:00 PM

Saturday
9:00 AM - 3:00 PM

Sunday
Closed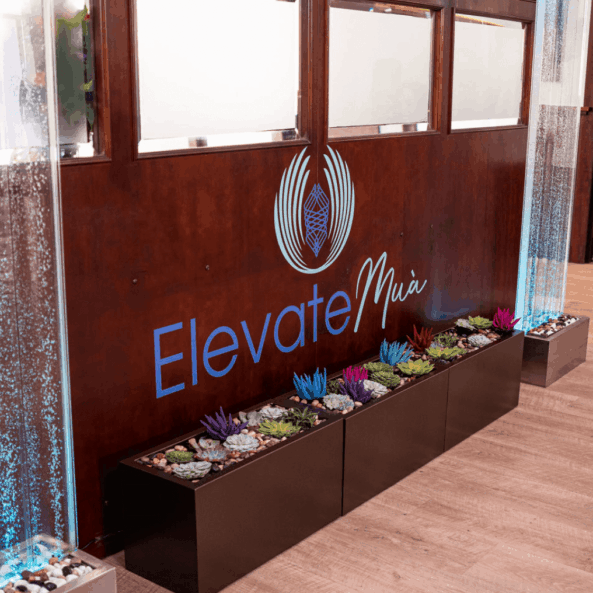 We serve customers from
following areas and more
Arlington Heights

Schaumburg

Mt Prospect

Norridge

Barrington

Elk Grove Village

South Barrington

Palatine

Chicago

Itasca

Park Ridge

Roselle