Achieve Even-Toned Skin: Hyperpigmentation Treatment
Hyperpigmentation is a prevalent skin condition that causes certain areas of the skin to become darker than others. The dark spots or patches occur due to excess melanin production, resulting in shades of brown, black, gray, red, or pink. Though not painful or itchy, hyperpigmentation can lead to self-consciousness.
While lifestyle changes and proper skin care can aid in managing hyperpigmentation, many individuals turn to ElevateMuà for targeted spot treatments. Our specialized procedures offer practical solutions to address hyperpigmentation, helping you achieve a more even and radiant complexion and boosting your confidence.

If you're looking to smoothen out those dimples, the experts at ElevateMuà are here to help. Our cellulite reduction treatments are your ticket to smoother, more even skin. Wave goodbye to dimples and say hello to a new confidence level - because you deserve it.
How Schaumburg, IL Laser Hyperpigmentation Treatment Works?
Schaumburg, IL laser hyperpigmentation treatment at ElevateMuà utilizes advanced laser peel (resurfacing) procedures to address hyperpigmentation concerns effectively. This treatment employs targeted beams of light to minimize the appearance of dark hyperpigmentation brown spots and patches caused by excess melanin production.Two types of lasers are used in the treatment process: ablative and non-ablative.
Ablative lasers

are more intense and involve removing layers of the skin to promote skin regeneration and a more even complexion.

Non-ablative lasers

are gentler, targeting the deeper layers of the skin without removing the outer layers. Both laser types stimulate collagen production, helping to reduce hyperpigmentation and achieve a smoother, more radiant appearance.
Laser Hyperpigmentation Treatment at a Glance
WHAT IS IT?
This treatment employs targeted beams of light to minimize the appearance of dark hyperpigmentation brown spots and patches caused by excess melanin production.
BENEFITS
Reduce or eliminate dark spots, achieve an even skin tone.
TIME
30 - 60 min
2 - 6 repeated treatments for best results
INVESTMENT
$115 - $755
2 - 6 repeated treatments for best results
Benefits of Hyperpigmentation Schaumburg, IL Treatment
If you're looking to address stubborn age spots, sun spots, port wine stains, and blotches on your face, our doctors in Schaumburg, IL offer exceptional hyperpigmentation treatments with a range of benefits:
Reduce or Eliminate Dark Spots

Targeted treatments help reduce or eliminate age spots, sun spots, and other dark blemishes.

Restore a Harmonious Complexion

Hyperpigmentation treatments work to restore a healthy and even skin tone, providing a more harmonious complexion.

Collagen Stimulation & Rejuvenation

Many procedures involve stimulating collagen production and infusing rejuvenators, promoting skin renewal and vitality.

Achieve an Even Skin Tone

The treatment effectively evens out the skin tone, leaving it free from blemishes and dark spots, providing a smoother and more radiant appearance.
Laser Hyperpigmentation Treatment Process
1

CONSULTATION BEFORE the Laser Hyperpigmentation Treatment Procedure

ElevateMuà's professionals tailor each treatment plan to suit your unique needs, ensuring exceptional results and helping you regain your confidence with revitalized and radiant skin.

During your initial consultation, our knowledgeable team will assess your skin thoroughly. We will discuss the best preparation for your needs, including when to discontinue certain products and how long.

2

DURING the Laser Hyperpigmentation Treatment Procedure

Our skilled professionals will guide you through a comfortable and personalized experience during the hyperpigmentation treatment at ElevateMuà. The procedure involves targeted laser beams gently penetrating the skin, specifically addressing dark spots and patches caused by excess melanin production.

You may experience a mild sensation of warmth during the treatment, but discomfort is minimal. Our team prioritizes your comfort and safety throughout the process. The duration of the procedure will vary depending on the size and number of treated areas, with most sessions lasting between 30 to 60 minutes.

With the expertise of our experienced practitioners and advanced technology, you can expect a smoother, more even skin tone due to the laser hyperpigmentation treatment. Following the procedure, our post-treatment guidelines will ensure a smooth recovery and help you achieve the best possible outcomes.

3

AFTER the Laser Hyperpigmentation Treatment Procedure

After the hyperpigmentation treatment, you may experience some mild redness or slight swelling in the treated areas, which typically subsides within a few days. It is essential to follow post-treatment instructions diligently, such as avoiding sun exposure and using gentle skincare products.

Over the following weeks, you will notice gradual improvements in your skin tone as the dark spots fade, revealing a more even and radiant complexion. With minimal downtime and personalized aftercare, our hyperpigmentation treatment can help you embrace revitalized and confident skin.
Laser hyperpigmentation treatment promote the growth of new skin cells, leading to a reduction in hyperpigmentation's appearance.
Before & After Hyperpigmentation Schaumburg, IL Treatment
A successful laser hyperpigmentation treatment relies on appropriate preparation to ensure safety and effectiveness. Pre-treatment instructions may include:
Sun Avoidance

Prioritize avoiding sun exposure to protect your skin and optimize the results of the laser treatment.

Tanning Bed Avoidance

Refrain from using tanning beds to prevent interference with the procedure's efficacy.

No Waxing or Threading

Avoid waxing or threading to ensure the skin's surface is undisturbed before the treatment

Avoid Harsh Topical Products

Discontinue using harsh topical products, such as prescription serums, creams, and steroids, to minimize skin sensitivity.

Acid-Based Product Discontinuation

Stop using acid-based products that may cause skin irritation.

No Cosmetic Injectables

Refrain from receiving cosmetic injectables before the hyperpigmentation treatment.
Experience Laser Hyperpigmentation Treatment Near You
If you're still on the fence about all the benefits of laser hyperpigmentation treatment and what laser hyperpigmentation treatment in Schaumburg, IL can do, check out our Google Reviews from other customers like you. And if that isn't enough, call our wellness center to learn more. We'll answer any questions about laser hyperpigmentation treatment or any other treatment you are considering.
We're confident you'll be just as satisfied as the customers who have left us reviews. Request an appointment today.
I had the pleasure of visiting ElevateMuà and I was thoroughly impressed with the experience. I highly recommend getting your facial skin consultation to thoroughly understand what areas need improvement and taking advantage of the plethora state of the art technology they have to offer.
Impeccable Service, Unmatched Ambiance
If I could give more than 5 stars I would. There was impeccable service from the minute I walked through the door. The ambiance was unmatched and I loved how tailored the treatments were to me and my needs!
I just tried their new Aqua B Ultimate service and I absolutely LOVED it! Experience overall was just so relaxing and my skin feels GREAT! Sev really make sure you feel comfortable and relaxed. She is also super informative on any questions you may have about skin!
Scheduled for a laser hair removal consult.. it was quick and easy. I even got my first treatment done the same day! I cannot recommend it enough. It has been over a week since I had my first treatment and I'm just now starting to see the hair grow back
I had the best experience! The staff was very nice and lovely to talk to! My face feels refreshed and rejuvenated, and I felt like my treatment was very personalized. I definitely recommend coming here!
This place was so amazing! I loved my facial and my skin is glowing after just one session!! If I could give this place more than 5 stars I would.
Laser Hyperpigmentation Treatment FAQs
Seeking effective treatment for hyperpigmentation in Schaumburg, IL? ElevateMuà's skilled doctors are ready to address your queries about removing hyperpigmentation from the face. Explore our comprehensive list of commonly asked questions to gain valuable insights into our advanced procedures and how we can help you achieve a radiant and even complexion.
Fixing textured aging skin may involve various approaches, such as laser skin resurfacing, chemical peels, microneedling, or dermabrasion. These treatments help stimulate collagen production, exfoliate dead skin cells, and promote skin rejuvenation, resulting in smoother and more youthful-looking skin.
As we age, our skin becomes more fragile, thin, and delicate, with a 'crepey' texture—wrinkled and papery-like. The loss of collagen and elastin leads to this change, which keeps skin smooth and supple. As these essential proteins deplete, the skin thins out and develops the characteristic texture of aging.

Textured skin can suddenly appear due to the accumulation of dead skin cells on the surface. Other factors contributing to this issue include acne, sun exposure, and skin conditions like psoriasis, eczema, and keratosis pilaris. Proper exfoliation and skincare can help improve the texture and reveal smoother skin.

As we age, the skin's natural exfoliation process slows down, accumulating dead skin cells and a rough, bumpy texture. The aging process can hinder the skin's ability to shed these cells efficiently, worsening skin texture. Regular exfoliation and proper skin care can help address this concern and improve the skin's overall texture.

Yes, hyperpigmentation can be effectively treated with laser procedures. Lasers utilize targeted light beams to reduce hyperpigmentation. Ablative lasers remove skin layers, while non-ablative devices stimulate the dermis to encourage collagen production. These treatments promote the growth of new skin cells, leading to a reduction in hyperpigmentation's appearance.

The best laser for hyperpigmentation in darker skin tones is the Nd:YAG laser. This technology creates wavelengths that penetrate deep into the skin, bypassing pigmentation and avoiding damage to the surface layer or melanin in the skin, making it effective and safe for darker skin tones.

Find Out More In Our Blog
Working Hours
Come see us today and let us Elevate you!
Monday
12:00 P.M. - 6:00 P.M

Tue/ Wed / Thu / Fri
10:00 AM - 6:00 PM

Saturday
9:00 AM - 3:00 PM

Sunday
Closed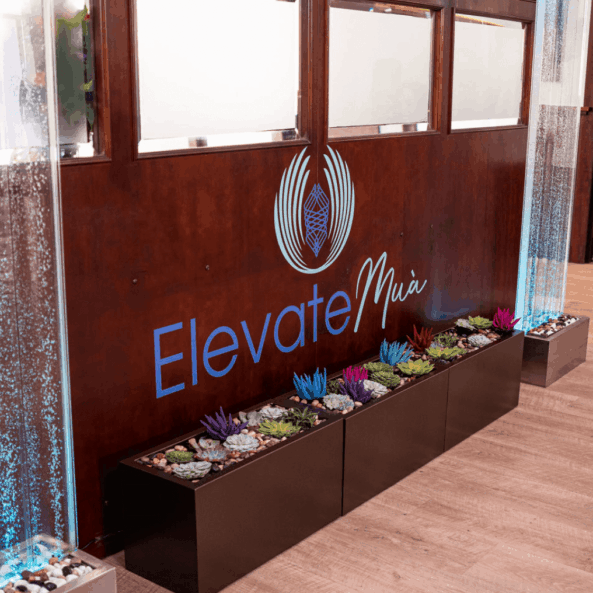 We serve customers from
following areas and more
Arlington Heights

Schaumburg

Mt Prospect

Norridge

Barrington

Elk Grove Village

South Barrington

Palatine

Chicago

Itasca

Park Ridge

Roselle